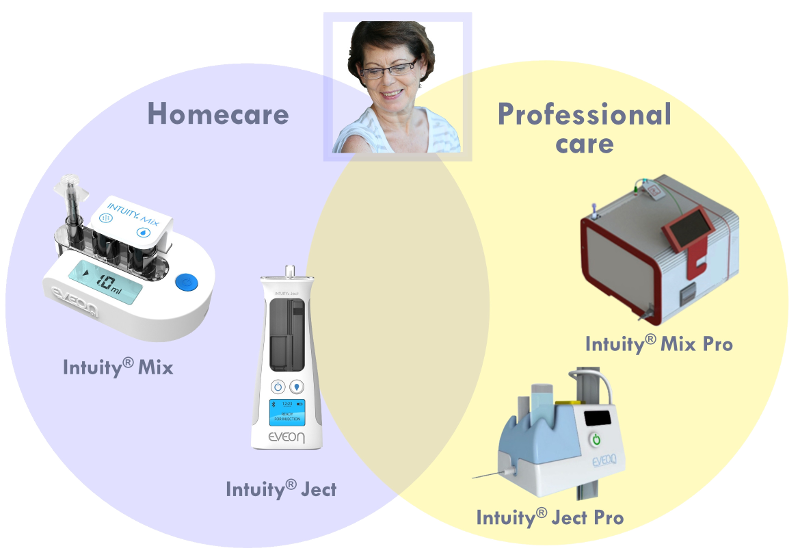 Because the success of a drug relies also on an efficient delivery, EVEON will find a unique solution for your treatment.
From pharmaceutical specifications, EVEON offers customised product developments and manufacturing dedicated to drug preparation and delivery which offers unique advantages for the pharmaceutical industries:
• Faster time-to-market thanks to:


º Modular and flexible solutions ready for clinical phases
º Compatibility with all kind of primary containers
º A rapid and cost effective alternative to liquid reformulation with easy-to-reconstitute lyo solution,

• Reduced commercial risks thanks to phase gated projects and experienced project teams
• Maximized Return-On-Invest by reducing product loss

We take care of all steps from:
• Design
• Development and prototyping
• Manufacturing from clinical to commercial batch according to GMP and ISO 13485 standards
Our multi-skill engineering team in microfluidics, electronics, micromechanics, mechatronics and softwares provides our clients with the most easy-to-use and cost effective solutions.
All our solutions are built around the pharmaceutical industries own primary containers, vial, cartridge, syringe or even bag from few microliters up to hundreds milliliters.
EVEON rely on key industrial partenerships, such as STMicrolectronics and Stiplastics, to develop smart medical device.
We adapt our manufacturing capacities to master the quality of the products we deliver and to secure our customers developments.
Contact us for specific enquiries.
Our project management process