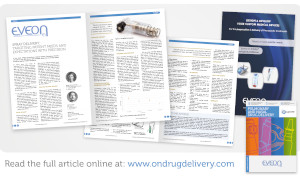 Read the latest article published in OnDrugDelivery about spray delivery: targeting patients needs and expectations with precision (in November 2023, Issue).
Gladys Corrons-Bouis and Cyril Le Loc'h discuss the use of spray delivery for precise targeting of patient medication.
And how EVEON's solution – the Intuity® Spray platform overcomes these challenges, offering easy, accurate and precise dosing with a modern delivery device.
Read more